An Irishman in Maine doing his bit for the Emerald Isle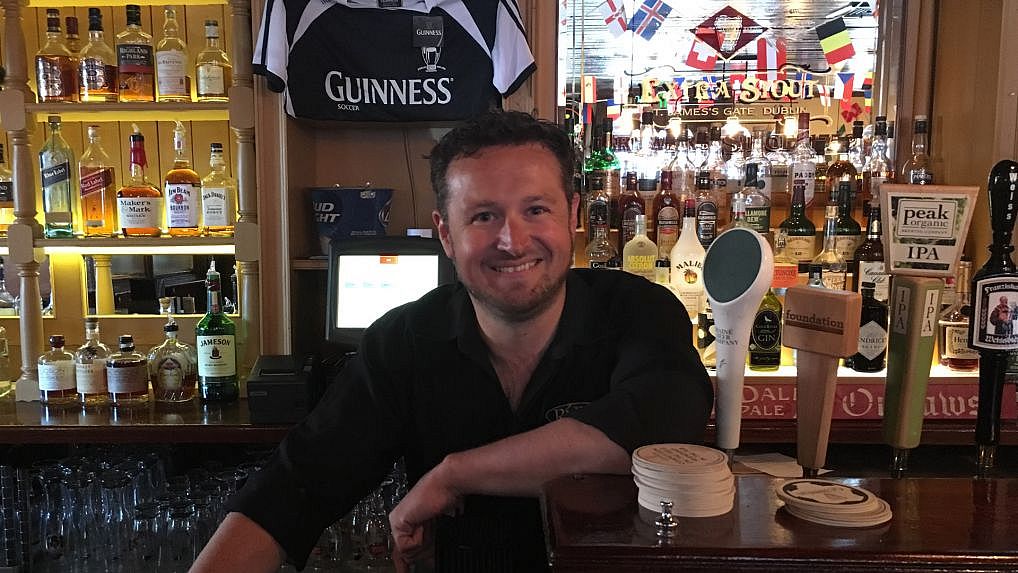 I came here for a year. Twelve years ago. It's a line I say many times every day from behind the bar to the question "How long have you been here?".
Many are beyond curious as to why an Irish lad would move to a small city in Southern Maine. "Why Maine?" is usually the next question, with a curious look on their face…
To keep it interesting, I mix up the answers a little, "witness protection" is always a favorite. But the quick answer is… Why would I want to be anywhere else? Maine truly is an amazing place. It's hard to imagine ever not being here. The coastline and its small towns bursting with personalities. They have stunning beaches, and pristine lakes. Offering activities to suit every possible taste. As for the seasons – they couldn't be more defined; Winter, Spring, Summer and Fall. This ever changing landscape keeps life very interesting. I would even go as far as to say, at times, it's a lot like home.
When I first arrived, I was on an eighteen month visa (known as a J1). I had previously been in the the aviation / tourism business. But in 2001 this was brought to its knees, every sector of the business felt it and had to react accordingly. Job security quickly disappeared and I put the bag on my back and kept going. I didn't really have a plan. But decided to head off traveling and explore the world a little.
But some time later I quit my job in Queenstown, New Zealand and moved to the US, based on a chat with a customer at the bar I was managing. I didn't know her, and I would never see her again. The girl had left the name of a bar she spent time in one summer and an email address. It read "Rí Rá" and there was the email address of the Rí Rá HR Director written on the same napkin, the official paper of all great life-changing decisions. I haven't looked back since. A few months later, I was on my way to a new life in this so called land of opportunity.
But what's ultimately fantastic about this place is the people I've met along the way. People I've worked with, friends I've made. The many lives that have been entwined through mine. I look back as I write this and am so glad to still be in touch with so many. So many good times shared, and remembered (mostly).
I was once asked by a guest "Why are you not living in Ireland? You're clearly intensely passionate about it. You love the music, embrace the history, and you light up when sharing it with us".. It's a question that kinda stopped my in my tracks. The answer came easy though. "I feel like I can do more for my country here", I responded. By presenting Ireland in a genuine way, that not only benefits the visitor, but everyone along the way. From where they stay and where they eat. Where they go for live music and how they interact with the country becomes very important. The way I see it, most people aren't simply visiting Ireland. They are returning home after being away for a really long time. I'm just putting the kettle on for them.