Rising to the Occasion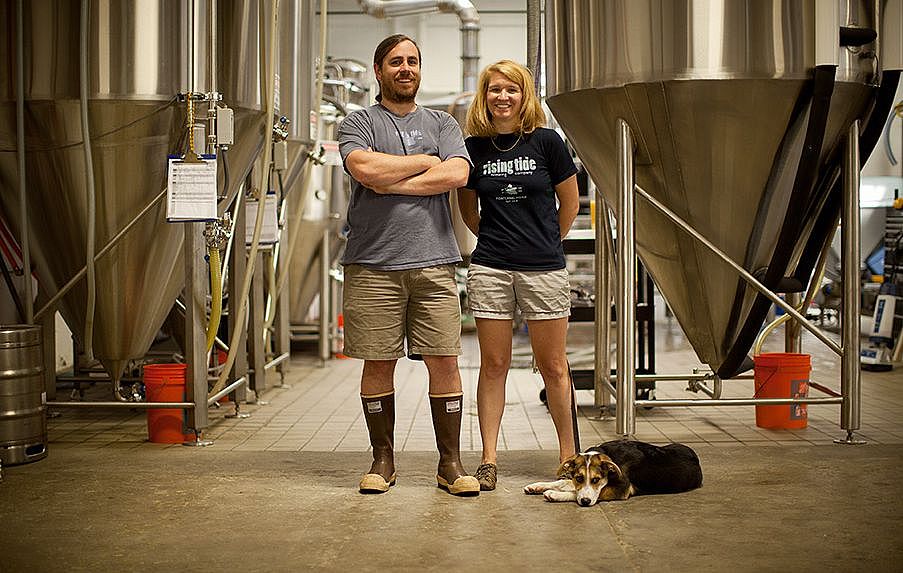 We're proud to host a rotating draft of Rising Tide all year long!
Rising Tide Brewing Company was founded in 2010 by husband and wife team, Nathan and Heather Sanborn. Rising Tide specializes in artisanal hand-crafted ales brewed in small batches. They aim to create well-balanced beers that are inspired by old world traditions but with modern twists that make them uniquely Rising Tide.
Rising Tide brews several year-round beers, including Daymark pale ale, Zephyr IPA, and Ishmael copper ale, as well as a variety of seasonal beers. The brewery is best known for its Maine Island Trail Ale, or MITA. MITA was first brewed in 2013 as a celebration of the 25th anniversary of the Maine Island Trail Association. In the past four years, Rising Tide has made generous donations to the Maine Island Trail Association from the proceeds of Maine Island Trail Ale. Both Heather and Nathan hold a great appreciation for Maine's coast and partner regularly with local non-profit organizations that work to maintain its beauty and provide coastal access and activities to Maine's residents and visitors.
Heather and Nathan are both Portland natives and maintain commitment to supporting the local community and businesses. In 2016, Rising Tide committed to including local malts as a portion of the grain bill in every batch. Since 2012, when Rising Tide relocated to Portland's East Bayside, the neighborhood has been revitalized. East Bayside now boasts four breweries, two coffee roasters, multiple retail stores, a new housing complex, and its first restaurant.
In 2012, she spearheaded an effort to legalize brewery tasting rooms in Maine. Without this change, Maine would not be the world-class beer tourism destination it has become. In 2016, Heather was elected to the Maine House of Representatives, where her leadership for small businesses will continue.
Rising Tide's growth continues in 2017 as they plan their next round of expansion. First, they will open a dedicated barrel-aging, blending, and bottling facility. This new space will allow for a greater experimentation in their barrel aging program. Later in 2017, they will add additional production and a dedicated special event space. The special event space will be available to host a wide range of events, including corporate, community, and non-profit gatherings.