Holiday Movie Trivia
Date:
Tuesday, 12 Nov 2019
Posted in: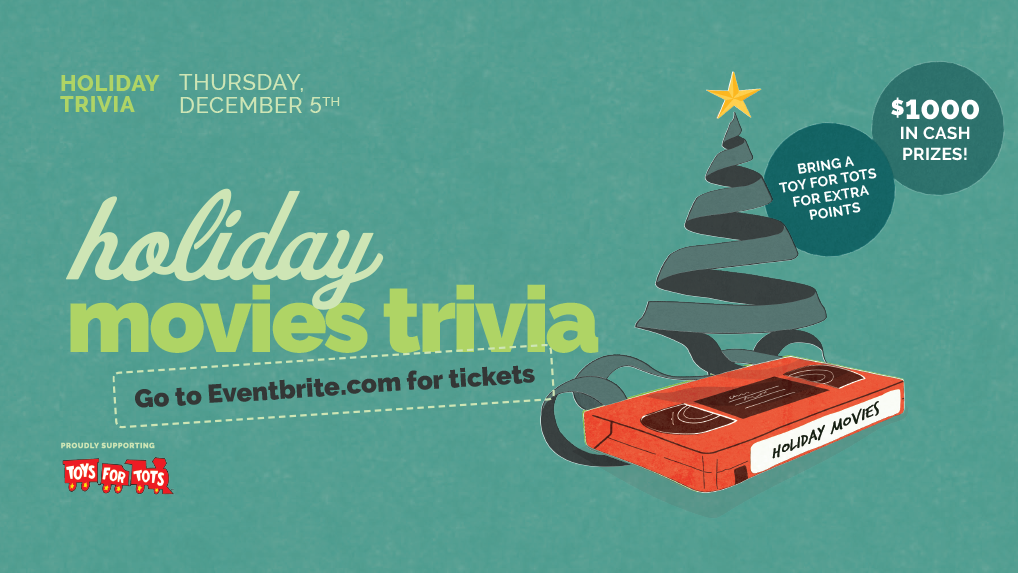 Do You Know Your Holiday Movies?
Join us for our Festive Holiday Trivia, the last one of the year! Come test your knowledge of the 20 most popular holiday movies from the last 4 decades. We have $1000 to give away! The fun kicks off at 7pm on Thursday, December 5th!
1ST PLACE > $700
2ND PLACE > $300
3RD PLACE > Holiday Gift basket
LAST PLACE > Special Prize
Costume Contest for best Team Holiday Outfits. Tickets are $8 and can be purchased here!
Bring a Toy for Tots and earn an extra 5 points for your team! (Max 10 points per team)

PLEASE READ ALL OF THE RULES BEFORE YOU PURCHASE TICKETS. 
RULES/CONSIDERATION:
• This is a 21 or older event.
• Your team must be a minimum of 2 people or can be up to a maximum of 5 to play.
• We ask that one person from each team by all the tickets.
• Please email us your team name and roster before the event to riraportsmouth@rira.com
• There are no refunds for this event.
In addition, will have a special food and beverage menu for this event. Jameson will be rewarding a Best Team Outfit award as well.
THE MOVIES: (In no particular order)
1. Elf
2. Scrooged
3. A Christmas Story
4. Home Alone
5. Home Alone 2
6. National Lampoon's Christmas
7. Love Actually
8. The Night Before
9. Die Hard
10. The Family Stone
11. Eight Crazy Nights
12. Miracle on 34th Street (Original)
13. White Christmas
14. The Grinch
15. Nightmare Before Christmas
16. Muppet Christmas Carol
17. The Santa Claus
18. Bad Santa
19. Jingle All the Way
20. Four Christmases
This event will sell out…Happy Holidays!