Come to our 21st Party & end up in Ireland!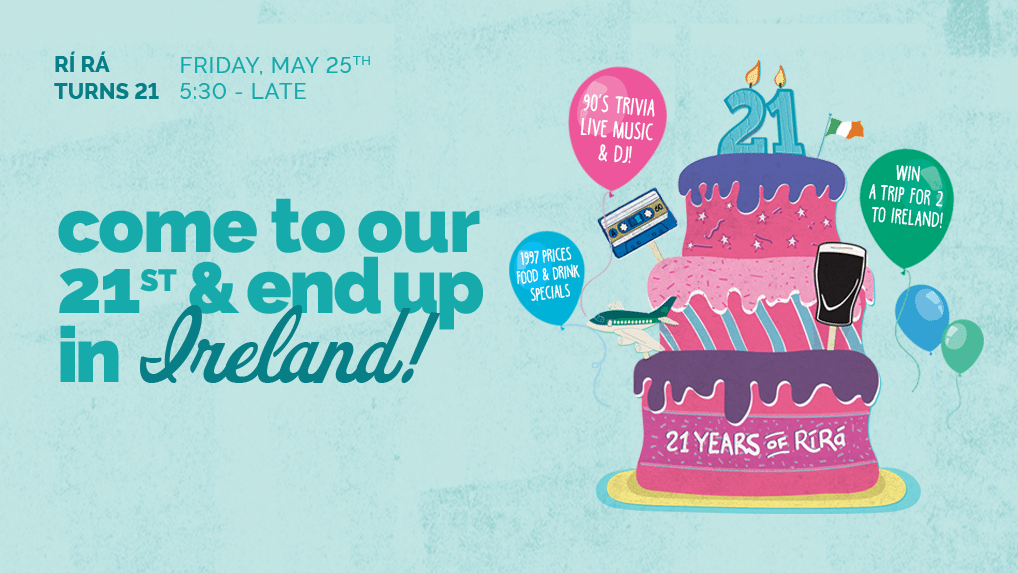 We're celebrating 21 years being part of the life and soul of Charlotte with a 1990's Throwback Party to end all parties!
On May 25th, starting at 5:30pm with 1990's trivia, we have a fun packed evening and the highlight is our '21 prizes for 21 years' drawing, with the top prize a trip for 2 to Ireland! Everyone in the pub by 6:30pm gets a ticket and goes into our 21 prizes draw, hosted by 106.5FM's Chris Rozac.
That's not all, we are rolling back the prices of Guinness, Jameson, and some of our Irish classic dishes like Shepard's Pie, Corned Beef & Cabbage, and Fish & Chips! This great deal is available all day long at the pub. There's also Live Music with a 1990's flavor from the fabulous Heroes at Last and to keep the party going late into the night, we have a DJ spinning the hits from the 1990's!
The best news of all is that it's totally free!
Simply go to www.freshtix.com/events/riraturns21 and get your free ticket. But you better be quick because when they're gone, they're gone!
Part line-up and timings:
5:00pm
1990's Trivia: Registration from 5:00pm, the fun begins at 5:30pm
6:00pm
Heroes at Last: Live Music, playing all the hits from the 90's
6:30pm
21 Prizes for 21 Years Raffle: Deadline for getting your raffle ticket
7:00pm – 9:30pm
The 21 Prizes for 21 Years Raffle: Featuring a top prize of a trip for 2 to Ireland!
10:00pm – 2:00am
90's DJ: Dance till you drop as our DJ kicks in to keep the party cranking until 2:00am