A July Special
Date:
Friday, 28 Jun 2019
Posted in: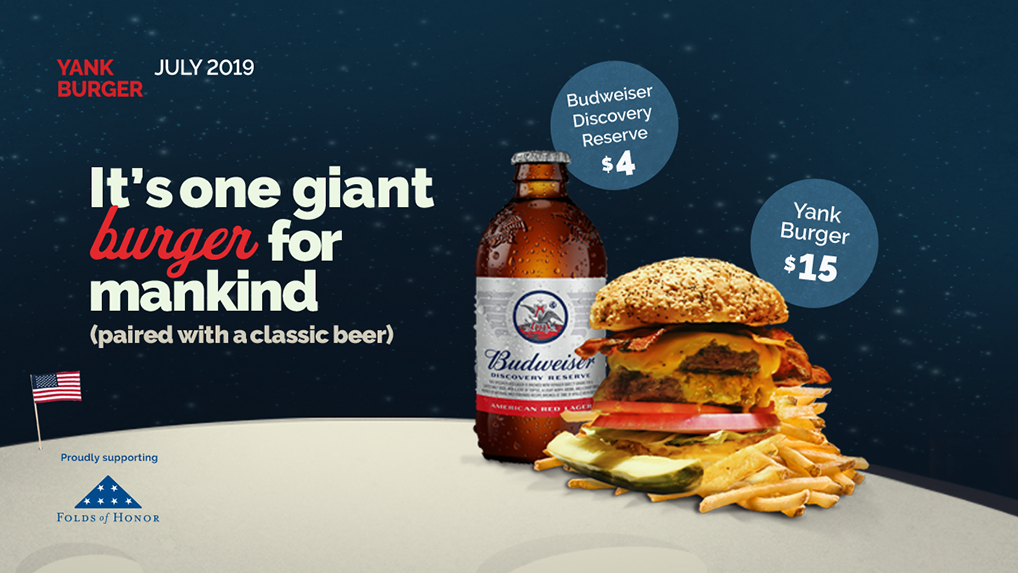 It's One Giant Burger For Mankind!
Celebrate the 50th Anniversary of the moon landing with our limited edition Yank Burger – the biggest, juiciest, most American burger we've ever made. 2 All-American beef patties, American Cheese, 2 strips of smoked bacon, served with American Firecracker Fries. Make it doubly special with a Budweiser Discovery Reserve – a limited edition red ale made from a 1969 recipe.
The Discovery Reserve was inspired by an archival Budweiser recipe from the time of the Apollo Moon missions. The beer is a tribute to this epic moment in history, it commemorates the pioneering American spirit that brought us to the Moon, it also recognizes future frontiers and is a nod to the United States Air Force, which worked in great partnership with the space program of the 1960s.
Help us to help our Heroes! Ask your bartender or server how you can donate to Folds of Honor, a partnered charity who provide educational scholarships to spouses and children of America's fallen and disabled service-members.