Record Breakers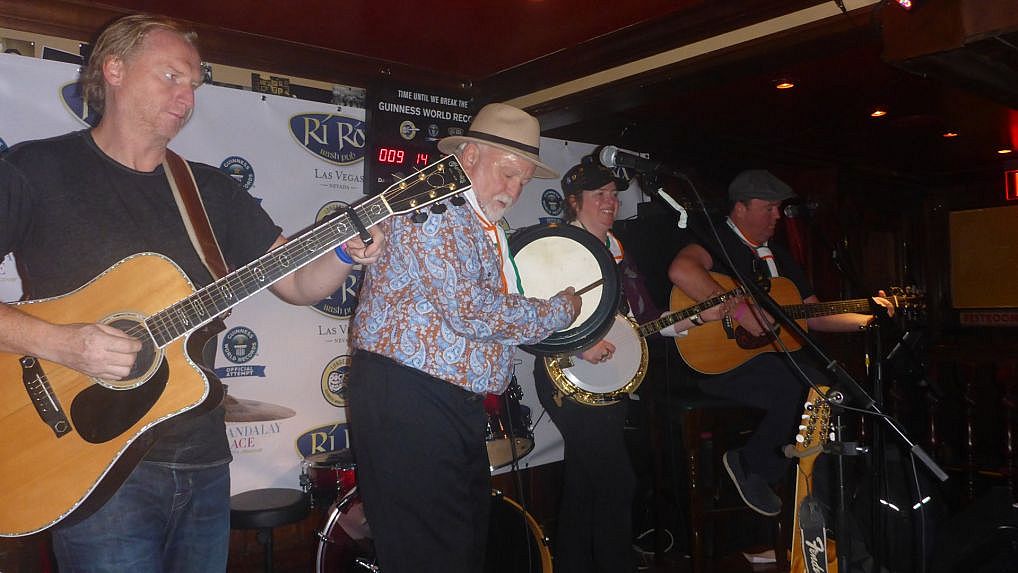 on Friday, Oct. 17 an amazing thing happened – we set a Guinness World Record for the Longest Concert By Multiple Artists. 
Like it was yesterday, I remember the day we were approached by one Dave Browne, who plays regularly with us here at the pub, about this great idea he had. "How about trying to set a Guinness World Record at Rí Rá Las Vegas?" he said. 
Hailing from inner city Dublin, Dave was already a Guinness World Record holder for marathon guitar playing, a record he broke at Temple Bar in Dublin in June 2011 when he played guitar for 114 hours and six minutes straight. Browne is also the founding member of two bands – The Black Donnelly's and Little Sister Sage, and plays mandolin and guitar.
We got to thinking "Imagine what it would be like for our little Irish pub to take Las Vegas by storm and put us on the worldwide map!"
How difficult could it be? We already have plenty of musician friends who play at the pub. We have live music seven nights a week, so we have all of the necessary equipment.
It can't be that difficult, right?
Before we knew it, we submitted our application and printed the rulebook. Our looks of excitement quickly began to change into anxiety and nervousness as the scope of what we had agreed to do came full circle. How on Earth were we going to organize this mammoth task? How were we going to beat the previous record of 15 whole days?
The planning mode began. Rulebooks were scrutinized, to-do lists were compiled, emails were sent, and calls were made.
To qualify, music must play non-stop with no more than a 30-second pause between songs. Only 5 minutes are permitted for technical set-up between each band.
No song could be repeated within 4 hours.
The attempt must be witnessed at all times and a minimum of 10 people must be present in the venue watching the attempt.
We must be mad!
It was finally D-Day; there was no turning back. Everything was in place, and we were ready. On Wednesday, Oct. 1, at 1 p.m., the first chord of the guitar was played. The attempt had officially started, and the countdown clock was set. Crowds came to cheer us and witness what we hoped was history being made.
Friends flew in from across the country and Ireland to lend a hand, play a set, be a witness and, most importantly, encourage us to keep going through the wee hours. Supporters from around the world watched our live feed and sent messages of support and encouragement. It was unbelievable.
Many popular bands and musicians flew in from Ireland to support the attempt, including Liam Reilly of renowned Irish rock band, Bagatelle and the founder of the legendary Wolfe Tones, Derek Warfield.
Additional participating bands included The Black Donnelly's, John Windsor, Dirk Vermin, Paul Cray, Louise Barry, Sharon O'Brien, Eugene Quinn, Roy Buckley, Dave Rafferty, Dave Hughes, The American Diddley Idols, Clare Peelo, Gavin Carpenter, Na Cairde, Darby O'Gill and the Little People and more.
Along the way, there were definitely some hairy moments — like when we thought the video footage had stopped recording, or when a musician nearly fell asleep while playing, or when a band didn't show for their scheduled time, and when a supporter took out one of our musicians when she mistook her flute for a pistol.
But we did it!
After 15 days, 12 hours and 10 minutes, we had broken the record and officially set a new Guinness World Record for "Longest Concert By Multiple Artists."
The atmosphere was electric, the support was unwavering, and the celebrations were insane! Looking back, there is no doubt in my mind that it was absolutely worth it. It was a magical moment, a time when you're reminded that there are great people in this world and of the power that music has to bring people together.
In honor of the Guinness World Record attempt, Rí Rá Las Vegas raised funds for the Southern Nevada Affiliate of Susan G. Komen®. During the concert, guests ordered from the pub's special Guinness World Record menu during lunch or dinner, and Rí Rá donated 20 percent of all proceeds to the local nonprofit. We also raised money for the affiliate by selling pink wristbands and paper ribbon icons throughout the month and donating the proceeds