Pub Quiz
Date:
Monday, 10 May 2021
Posted in: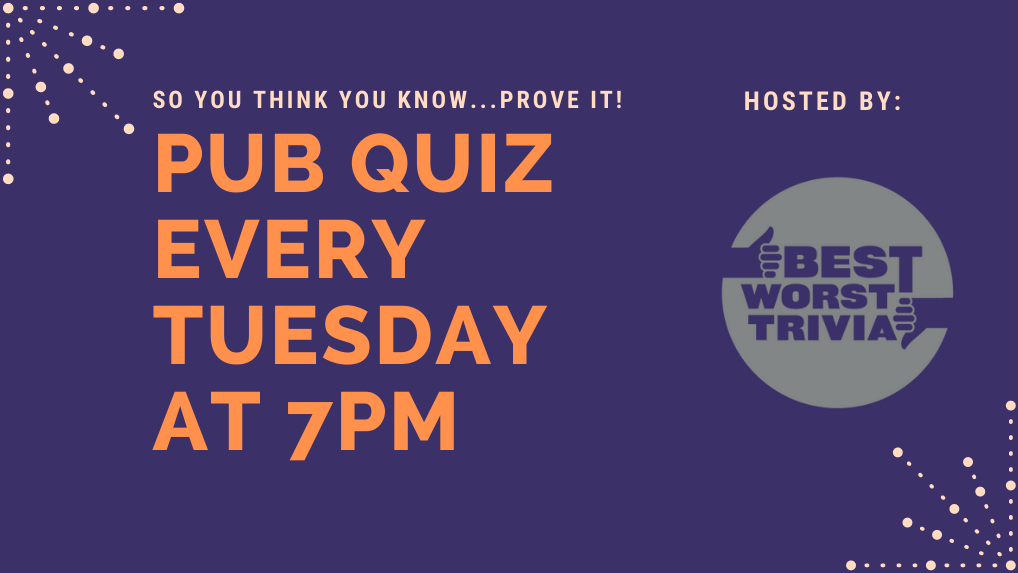 Join us for Pub Quiz with Best Worst Trivia every Tuesday from 7pm-9pm!
Get your best team of up to four players together.  As always, it's free to play and we have prizes for our winning teams!
BEST WORST TRIVIA RULES:
Reserve a spot by e-mailing : bestworsttrivia@gmail.com to reserve a spot. Please include the following information… YOUR NAME / TEAM SIZE / TEAM NAME/ DATE OF QUIZ / CONTACT PHONE NUMBER.
If you reserved a spot but can't make it PLEASE e-mail/message us to let us know so we can let another team play.
Teams that reserved a spot will be expected to have a player there at least ten minutes before the quiz begins to claim their reservation, or we WILL give your spot to a walk up team.
Walk up teams will be seated on a first come first serve basis, assuming space allows for it.
When checking in, the trivia host will confirm all contact info with one member of your team.
Please bring your own writing utensil, or we will provide a single use pencil for teams without. No more returning pencils at the end of the night.
At the end of each round, the host will wait 30 seconds, and then go around the room with a box for teams to drop their answer sheets into.
Your answer sheet MUST be filled out at this point, no exceptions.
Host will then score the answer sheets.