Santa 5K Run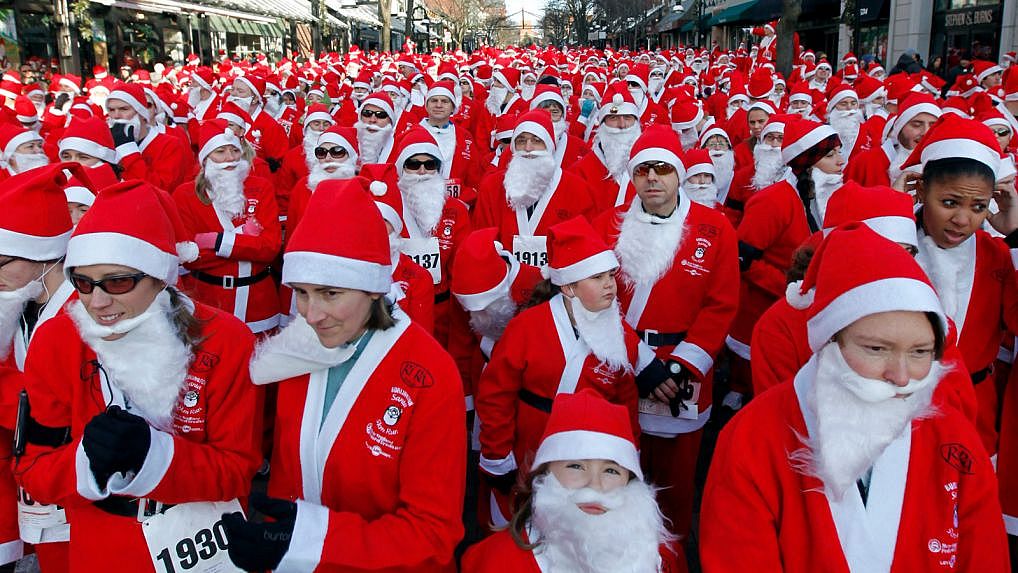 Celebrate the start of the festive season by taking part in Vermont's First and Largest All-Santa Run/Walk, the Rí Rá Santa 5k! 
Register today and run the streets of Burlington dressed as Santa. This is a great family event with all participants receiving a Santa suit to be worn during the race. All finishers receive a beautiful finishers medal and breakfast snacks. This annual family-friendly event is one not to missed. Don't miss your chance to run through the streets with thousands of Santas  and then back to the pub for our after-party from 11am! To register click here! 
Proceeds from the event benefit Camp-Ta-Kum-Ta, a year round camp for kids with cancer located in South Hero, Vermont.
RACE DATE & START TIMES: 5K Run/Walk – Sunday, December 1, 2019 @ 10 a.m.
RACE START & FINISH LOCATION: Race starts & finishes at Rí Rá Irish Pub & Restaurant
RACE COURSE: The Rí Rá Santa 5K Race will begin at 10:00 a.m. on Sunday, December 1, 2019 in front of the pub located at 123 Church Street. 
POST-RACE BREAKFAST: A post-race breakfast will be served to all participants. In addition to the free post-race breakfast, there will be an after party back at the pub from 11 a.m.
RACE KIT PICK-UP
Race kit pick-up will be at Rí Rá Irish Pub & Restaurant located at 123 Church St, Burlington, VT 054
•Friday, November 29, 2019 from 10:00 a.m. until 6:00 p.m
•Saturday, November 30, 2019 from11:00 a.m. until 6:00 p.m
•Sunday, December 1, 2019 (Race day) from 7:30 a.m. until 9:00 a.m