Run Santa Run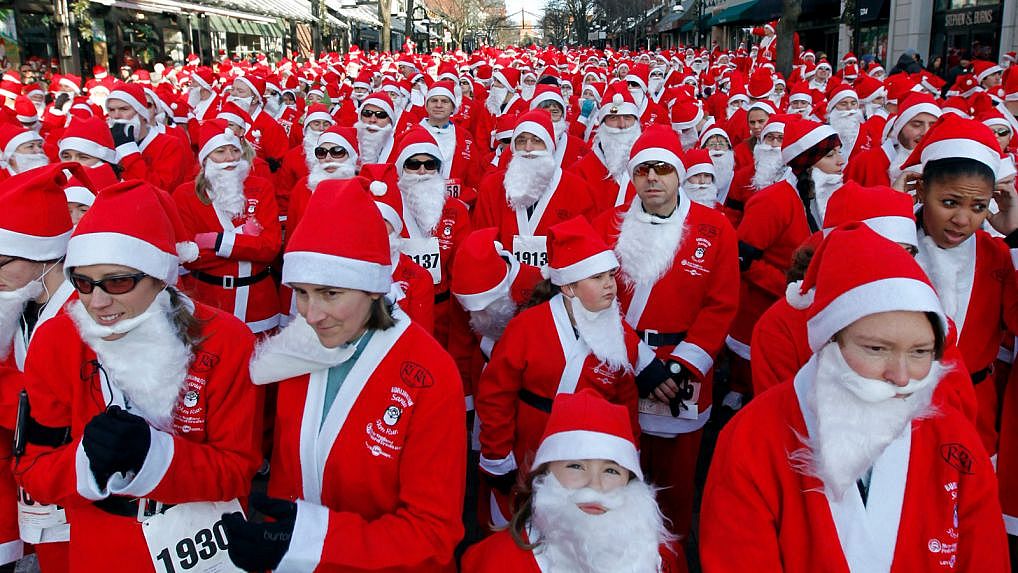 2016 will mark Rí Rá Burlington's 6th annual Santa 5K Race. Each December, participants gather on Church Street, outside Rí Rá, and run or walk 3.1 miles dressed in full Santa gear, beard included.
Participants pick up their Santa suits and race bib at Rí Rá and race the 5k to the finish at the Burlington Hilton located at 60 Battery Street. After the race, everyone is served a hot Irish breakfast courtesy of Rí Rá and the Hilton. Celebrations typically last all day and Santas are often spotted on the streets of Burlington hours after the conclusion of the event.
Proceeds from the event benefit Camp Ta-Kum-Ta, a year-round camp for kids with cancer located in South Hero, Vermont. Runners are encouraged to collect pledges and donations to further support the camp. For locals and visitors alike, the run is a great way to experience Burlington as the course offers views of historic Burlington, Church Street, Lake Champlain, and more. With over 1,500 participating Santas, the event is always a fun and unique way to celebrate the holiday season, come together as a community, and support a local charity.
This year's race takes place on Sunday December 4th at 10am. To register for this year's event, go to www.santa5k.com or come see us in the pub – we have sign up forms available.
Race Kit Pick-Up (at Rí Rá)
Friday, Dec. 2nd: Noon – 7pm 
Saturday, Dec. 3rd 11am – 5pm
Sunday, Dec. 4th (Race Day) 7:30am – 9am
Race starts at 10am in front of Rí Rá
Santa Run 2015